The Ultimate Guide to SPTechCon Boston 2019
Next week, the annual SPTechCon Boston Conference is returning for another exciting year of training, problem-solving, and networking. 
SPTechCon will cover a wide range of SharePoint and Office 365 topic areas and attendees will walk away with practical knowledge that they can apply immediately within their organization We're excited to be a Gold Sponsor of the conference again this year.
There's a lot happening during the week so read through this guide to make sure you attend the most important sessions and meet the right people while you're in Boston for SPTechCon. Get all the important details, dates, and insider tips below. 
SPTechCon Schedule At A Glance
Sunday, August 25th: First day of the conference. Tutorials, Hands-on lab, happy hour.
Monday, August 26th: Technical sessions, sponsored sessions, Microsoft Keynote, networking breaks, round tables, reception in Exhibit Hall (at 5:45 pm). 
Tuesday, August 27th: Technical sessions, general sessions, networking breaks, prize announcement in Exhibit Hall, SharePoint.
Wednesday, August 28th: Technical sessions & general sessions. Conference closes. 
For a complete list of sessions and descriptions click here.
Don't Miss These Exciting Events And Sessions
Office 365 Hands-On Kitchen
When: Sunday, August 25th — 9 am – 5 pm
Join a select group of "chefs" (speakers) as they create recipes for collaboration challenges with cooks (you!). There will be up to five teams led by two master chefs to guide them through the solution cooking process using all the ingredients available in Office 365!
Planning a Successful Migration to Microsoft Teams and SharePoint Online
When: Monday, August 26th — 9:15 – 9:45 am
Senior Consultant of Timlin Enterprises, Nick Bisciotti, is sharing his top tips for executing a successful migration to Microsoft Teams and SharePoint Online. During this presentation, you will develop a plan and identify tools to make your migrations a smooth and seamless process.
Microsoft Keynote on Monday Morning 
When: Monday, August 26th — 10 am
Join Dan Holme, Director of Product Marketing, as he shares the latest innovations and solutions for content collaboration, security, teamwork, process transformation, employee engagement & communications, and knowledge sharing & discovery. Learn how the experiences in Microsoft 365–including SharePoint, OneDrive, Yammer, Stream, PowerApps, Flow–integrate to power collaboration and the intelligent workplace across devices, on the web, in desktop and mobile apps, and in the hub for teamwork, Microsoft Teams.
Stump the Experts – Win a Microsoft Surface Go!
When: Tuesday, August 27th — 5 pm
Timlin is hosting this flagship SPTechCon event for the second year in a row! Ask clever, challenging questions of Microsoft experts. The person with the best question will win a Microsoft Surface Go!
This will be an open discussion where you can test your knowledge against some of the best, discover answers to troubling SharePoint and Office 265 topics, and take your turn at winning this awesome prize. 
#TimlinTrivia — Join Us On Twitter
Join us every morning on Twitter from Monday to Wednesday for a round of #TimlinTrivia!
Before the morning keynote each day, we will tweet a tricky Office365 or SharePoint question. The first attendee to respond with the correct answer will win an Amazon gift card!


How To Get the Most Out Of Your SPTechCon 2019 Experience
Preparation is key! Be sure to draft your conference schedule in advance and highlight the events that interest you the most.
Leave some free time during the day to recharge, grab a bite to eat, and network with others. Conferences are often jam-packed with back to back sessions and information, so it's important to soak in as much information as you can without burning out by the end of each day.
Find the right sessions for you with filters. Use the robust filtering system on the SPTechCon program agenda to identify the right sessions to add to your schedule. You can filter by topic, session type, session category, level, and date.
Set goals for yourself and your experience. Decide on whether your priority is networking or building your skillset, and make that your priority during each day. Make a list of things you'd like to learn and people you'd like to connect with. Discover the complete list of

this year's speakers

. 

Meet the many sponsors and companies in the industry who are changing and challenging the status quo with their Office 365 and SharePoint solutions. Meet the Timlin Enterprises team and learn more about our Center of Excellence approach by stopping by booth #209. 
Join in on the fun on social media. A great way to network and connect with the conference is by chatting on Twitter under the official conference hashtag #SPTechCon. 
We're excited to experience the 2019 SPTechCon with you! Let us know if you'd like to connect during the conference by sending us a message on Twitter at @TimlinEnt.
How to Revert All Lists and Libraries Back to Classic in SharePoint Online
You may have noticed recently that your lists and libraries in SharePoint Online had changed from the Classic Experience to the Modern Experience. While Microsoft continues to push the use of the Modern Experience, these changes may become more frequent.
However, there are definitely some instances where you may want to remain on the Classic Experience for the time being, branding being one of the biggest reasons. Customization of any kind that was developed in Classic SharePoint using Content Editor Web Parts, Script Editor Web Parts, Master Page changes, etc. will not carry over into the modern sites.
The same applies to any sort of custom web parts that may have been developed for SharePoint. Any custom development that was not constructed using SharePoint Framework would not be supported or carry over easily.
So, here is a quick and easy way to use PnP PowerShell to revert all your lists and libraries back to Classic.
The Code to Revert Back to SharePoint Online Classic
The code we use is less than 40 lines and will return all the lists and libraries back to the way they were. The code does need to be run per site collection, as it will grab each subsite and their respective subsites under them and collect the lists and libraries to change back. If you are in an environment that tends to lean toward separate site collections for most aspects of your intranet, the script can be slightly modified to first grab all site collections (using and storing Get-PnPTenantSite in a variable while connected to your admin SharePoint center) and executing this same code in a loop through that variable. The code is as shown in the following screenshot.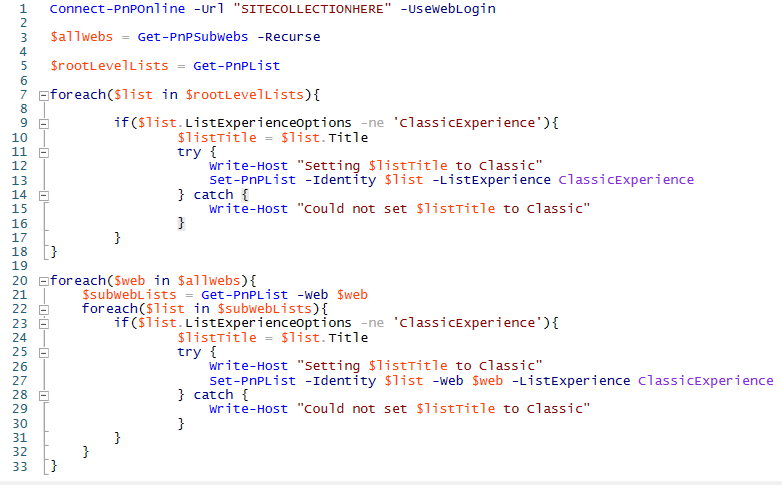 The Process Behind the Code
The code shown will connect to your site collection via Connect-PnPOnline and the -UseWebLogin flag.
First, while we are connected to the root web, we can grab all of its lists and store them in $rootLevelLists.
Then, we loop through each list, check if it is already in Classic Experience and if not, use the Set-PnPList command to set it to "ClassicExperience". You'll notice we don't have to use the -Web flag here as we are already in the context of where these lists live in the root.
On line 3, we can gather all of the subsites under the root using Get-PnPSubWebs. The -Recurse flag will ensure we also get every subsite nested within a subsite.
From there, we can iterate through each site, get and store all of the respective site's lists in $subWebLists.
We then iterate through each list, check if it is already in Classic Experience and if it is not, use the Set-PnPList command to set the List Experience to "ClassicExperience".
The code could be refactored a bit and thrown into a function, but in this format it may be a bit easier to read. Depending on the amount of site collections, sites, lists, and libraries you have this could take 5-10+ minutes to run.
Once completed, all lists and libraries across your tenant should now be set to Classic Experience. Should you want to change this at any point in time, you can replace all of the "ClassicExperience" strings in the code to either "Auto" or "NewExperience" and re-run the script.
---
If you have any questions on this process or anything else related to SharePoint Online, let us know. We support literally everything SharePoint.