Our Team
Meet the Thrive leadership team, dedicated to providing the best technology platforms and customer service for your business
Thrive's leadership team is comprised of industry and technical experts with decades of experience in managed services, technology infrastructure, security and compliance.
Rob brings more than 20 years of executive level technology business experience to Thrive. He was previously a principal at 19 Technologies, an executive consulting firm whose clients included Faction Cloud, Oxford Networks, Expedient, Sweetwater Capital, Bay Capital, Spring Capital and others. Prior to that, Rob served as CMO and managing partner at Xand where he oversaw a sale to Tierpoint in 2014, after merging his firm, Access Northeast, with Xand in 2012. Rob was the CEO at Access Northeast, building the company into a $20 million plus Data Center/Cloud/MSP regional powerhouse with more than seven consecutive years of record income, growth and profitability. He executed multiple term sheets with Private Equity Firms, Senior Banks and Mezzanine SBA Lenders generating working capital for the business and liquidity for shareholders in excess of $750 million. Rob has undergraduate degrees in Economics & Political Science from the University of Vermont (1990) and a Masters' Degree in Business Administration (MBA) from the Boston College Carroll School of Management (2002), with a concentration in Technology Marketing. He was enshrined into the Beta Gamma Sigma National Honor Society in 2002 for his post-graduate work.
Bill McLaughlin is the President of Thrive. Drawing upon his 20 years of MSP industry experience, he leads the company in its accelerated growth globally. Bill is responsible for Thrive's global sales, customer success, operations, advisory services and the M&A integration team. He also supports Thrive's expanding global presence and clientele with the company's extensive NextGen portfolio of managed cybersecurity, Cloud services and automation platform.
Before joining Thrive, Bill held a senior leadership role at Kaseya, where he completed an expedited one-year IT Management software journey. Previously, as an EVP and CTO, he assisted in spearheading the growth of Atlantic Tomorrow's Office, a provider of office automation solutions and one of the largest privately held technology companies in the United States. Bill also led several top-tier office technology companies, including NER Data Corp, Parts Now, and Allied Office Products.
He actively supports several nonprofit organizations throughout New Jersey and the New York area. Bill is a Hackensack University Medical Center Foundation Board Trustee and the Co-Founder and Chairman of the Board for The Jillian Fund.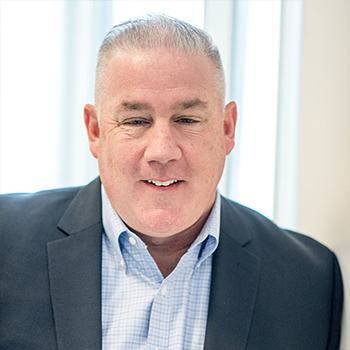 Jay oversees all Financial Operations and Human Resources at Thrive. Prior to joining Thrive, he spent 20 years as a CFO at technology and consulting companies backed by private individuals, venture capital firms, and private equity companies. He spent eight years at Kenan Systems, a $180 million provider of billing software, five years at Bowstreet, a pioneer in the web services space and later served as CFO at Atlantic Data Services, a consulting practice that serviced the banking industry. More recently, Jay was CFO at the Aberdeen Group, where he stood up multiple systems in merging three companies into one new platform with no previously established G&A function. Jay is a CPA and started his career in public accounting at Ernst & Young. He is a graduate of Boston College's Carroll School of Management and he currently resides in Walpole, MA with his wife and four kids.
John Holland oversees all sales, marketing, and customer success efforts at Thrive. John works with each of Thrive's regions in New England, New York and the Mid-Atlantic to streamline sales processes; in turn, easing the process of delivering superior NextGen managed services to Thrive's clients. His focus points at Thrive include increasing organic growth in revenue through geographical expansion, the further development of Thrive's channel sales team, and establishing the Thrive brand as a key player in the MSP space. Throughout his 20+ year career in the Cloud and managed services space, John has become a notable sales leader in the industry. Prior to Thrive, he spent nine years serving as the Senior Vice President of Sales at TierPoint, as well as leading sales teams at Sungard Availability, Internap and Broadwing.
John is a graduate of Saint Anselm College with a degree in Business.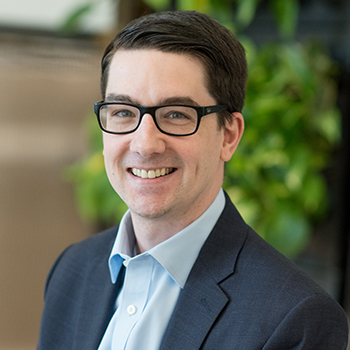 Michael has been a strong technology leader at Thrive over the past decade, contributing in the consulting, network engineering, managed services and product development groups while continually being promoted up the ladder. Michael's technology career began at Dove Consulting and later Praecis, a biotechnology startup that was acquired by a top five pharmaceutical firm in 2007. Serving in his current role, he is now responsible for Thrive's R&D, technology road-mapping vision, while also heading the security and application development practices. He is a member of several partner advisory councils and participates in many local and national technology events. Michael has a degree in Business Administration from Northeastern University and he also maintains multiple technical certifications including Fortinet, Sonicwall, Microsoft, ITIL, Kaseya and maintains his Certified Information Systems Security Professional (CISSP).
Marc Capobianco is Thrive's Chief Operations Officer. Marc served as president of Tier1Net for more than 20 years before the company's 2019 acquisition. He brings decades of experience in cybersecurity, financial regulatory & SEC compliance, and information technology to Thrive. Marc has extensive experience working with RIAs, wealth management firms, family offices, and private equity firms to solve their business technology, security and compliance challenges. Prior to founding Tier1Net, Marc founded Innovative Network, Inc., a leading Boston-based networking integration company. He also spent six years in the Information System Division at the United States Department of Transportation, where he was instrumental in the design and development of major networking initiatives for the FAA and U.S. Coast Guard. Marc also played a key role in Intelligent Transportation Systems, developing high-speed fiber optic digital video traffic systems for several state highway agencies – which soon became the benchmark for which future systems were based upon. He holds a bachelor's degree in Business Management and Finance from Merrimack College and a master's degree in Computer Information System from Boston University.
Joe Waleck is the Chief Customer Officer (CCO) at Thrive. As a talented and technical team builder with 20+ years of experience, he develops and implements strategies to elevate the overall customer experience.
Joe is a long-time leader with over 20 years of IT solutions expertise and a proven track record of building and leading teams focused on delivering client satisfaction and repeatable growth. He has extensive experience bringing new and disruptive technology to market while solving customer challenges across all market segments: Mid Market, Enterprise and Global Accounts.
Before coming to Thrive, Joe spent over 15 years as Vice President of Sales at Presidio (formerly BlueWater Communications Group), a leading North American IT solutions provider focused on Digital Infrastructure, Security, Cloud & Managed Services.
Joe received his bachelor's degree from Rutgers University.
John is Chief of Staff for Thrive. In his current role, he oversees key Strategic Initiatives for the business and manages inter-departmental high priority projects. John joined Thrive in 2003 and has managed many departments across Thrive including; Post-Merger Integration, Business Operations, Quality Assurance and Remote Support. John started at Thrive as a Help Desk Engineer and has been promoted multiple times to various positions throughout the company.
Prior to joining Thrive, John served in the United States Marine Corps and achieved the rank of Staff Sergeant. During his military career, he received numerous awards and decorations while gaining extensive experience in Information Technology, Logistics, and Process Management.
John received his Bachelor degree from Springfield College. He currently resides in Harvard, Massachusetts with his wife and son.