The Thrive Managed Services Platform
Create a superior IT experience for your entire organization
Thrive Helps IT Serve Their #1 Customer. The End User.
Managing the needs of hundreds or thousands of workers – in the office and outside of it – is a big job for any IT department. But it's a job that is only getting harder in the face of budget and staff cuts, a rising number of applications needed, and trends such as remote work and bring your own device.
The Thrive Platform, powered by ServiceNow, enables IT teams to deliver better service with less time and effort. By making self-service easy and automating frequent manual tasks, like password resets or new hire provisioning, the Thrive Platform transforms how IT is done.
Meeting the Needs of the Enterprise
The Thrive Platform provides tailored experiences depending on the role, streamlining the day to day for IT while making technology self-service second nature for everyone else.
A Look Inside the Thrive Platform
Built and managed by a dedicated expert team at Thrive, the Thrive Platform makes life better for everyone with custom workflows and easy-to-follow instructions.
Complete Everyday Tasks in a Few Clicks
According to Gartner, 20% to 50% of all IT help desk tickets each year are for password resets.
The Thrive Platform automates routine IT tasks, including resetting passwords and setting up new hires.
This frees up the time of the IT team to focus on more strategic projects while also keeping end users up and running – instead of waiting for help to arrive.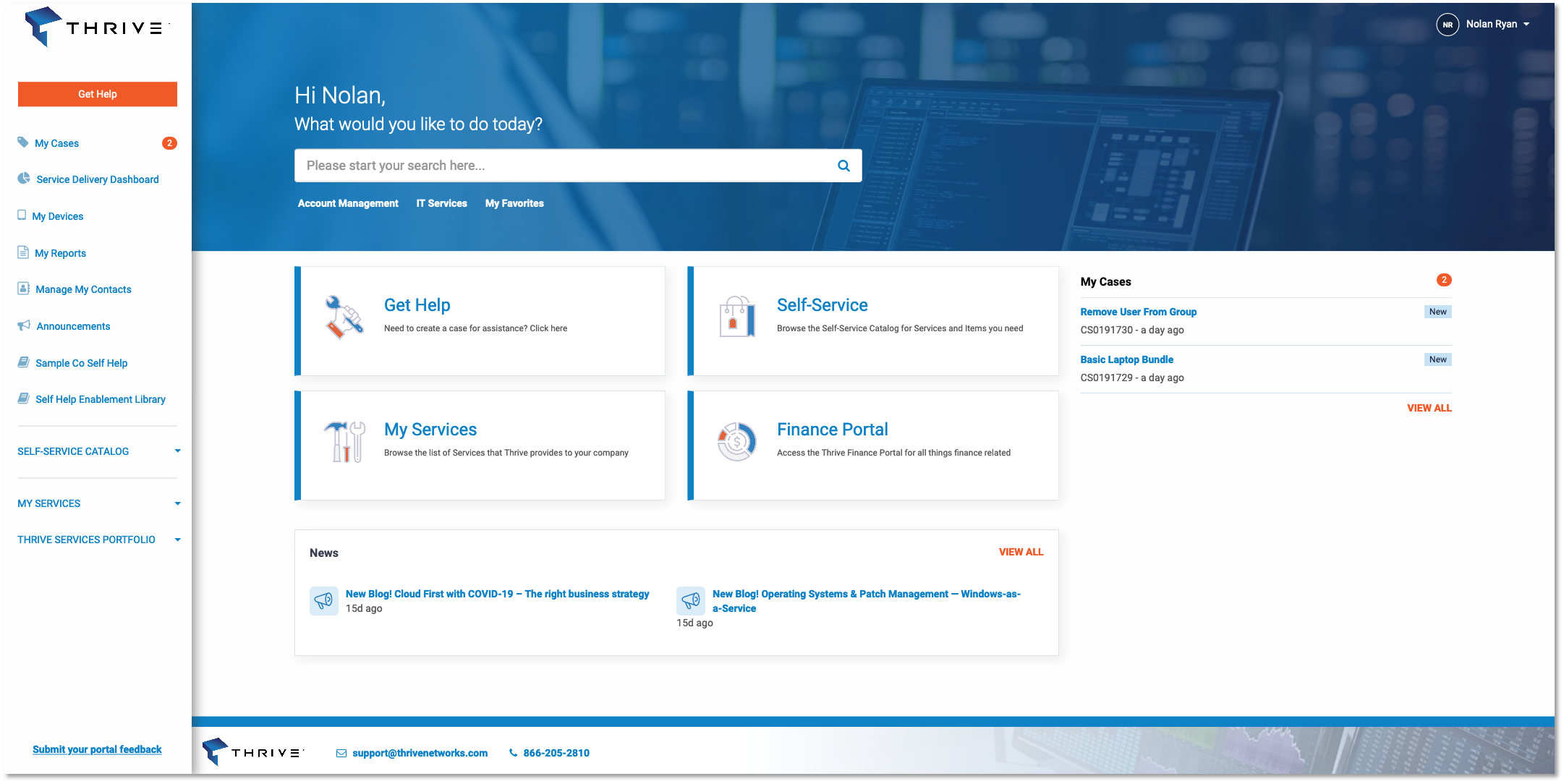 Get Visibility Into IT Health
The Thrive Platform delivers valuable reporting and dashboards to IT team members, making it possible to see real-time service desk metrics and information on open cases.
By replacing manual calculations and dated reports with more comprehensive and current metrics, IT leaders can review past performance and spot active trends that could be signs of issues.
The Thrive Platform Delivers Real Benefits
15% GREATER END USER PRODUCTIVITY
25% FASTER SUPPORT RESOLUTION
95% FASTER SERVICE DELIVERY
25% LESS IT TIME SPENT ON TASKS
Reduce Complexity and Boost Service
Take the first step towards improving your organization's IT experience by scheduling a demo of the Thrive Platform