How to Fix Timestamp Issues Between Exchange and SharePoint in Microsoft Flow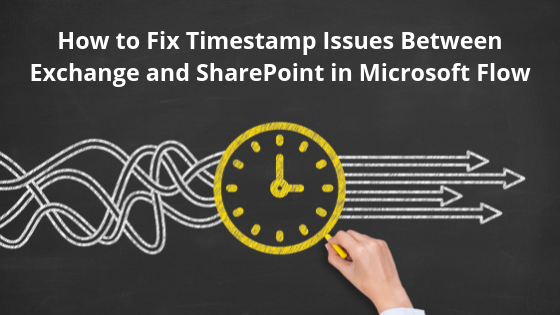 Microsoft Flow is often used so users can consume emails and post their content and attachments into a SharePoint list for processing.
The date and time that an email was received are common metrics that users would like to track in SharePoint lists, and the metadata on the email contains that information. However, when you try to use this field, the date and time that flows into the SharePoint list isn't the date and time the email was received.
Why Is There an Automatic Timestamp Issue in SharePoint? 
The problem stems from the variation in date formatting.
The date and time format that comes back from Exchange emails will resemble the following: 2019-07-02T17:10:36+00:00.
To compare, the date and time format that will be stored in a SharePoint list defaults in the following format: 2019-07-02T17:10:36.0000000Z.
Due to the difference in formatting, if you simply try to store the date and time from Exchange in a SharePoint list without converting it, you will end up getting completely different times than what you would expect.
How to Fix Timestamp Issues with Microsoft Flow 
The easiest way to solve this problem is to simply convert the time we receive from the email into the SharePoint friendly format. To do so, we can use the "Convert time zone" action in Microsoft Flow.
By default, the time zone that items come back in is the UTC Coordinated Universal Time and then it is converted into the end-users local time zone from that base.
With this information, you can convert the Base Time (the email's received time) into the "Round-trip date/time pattern". Our source time zone and destination time zone will remain the same as we do not want the actual timestamp itself to change.
The output from this action can then be used to store the proper timestamp in a SharePoint list item as shown below and from there the issue has been resolved.

If you have any questions with this process, let us know. Also, if you work a lot with Microsoft Flow, check out one of our most popular blogs entitled How Substring Works in Microsoft Flow.
---
Is It Time to Switch to ActiveSync?
For companies that are currently utilizing a Blackberry server many are considering switching to Active Sync with the greater demand for iPhones and Android platforms.  What exactly does this mean for your business?  Many employees have had a great interest in purchasing an alternative platform to Blackberry so let's take look at how you can also integrate Active Sync into your environment and the advantages/disadvantages you will need to consider.
One of the biggest advantages to Active Sync is the change in infrastructure that would take place in your environment.  Less hardware is actually required to run Active Sync, instead of maintaining a stand-alone server as is required for a Blackberry server, you run Active Sync from your Exchange server.
Active Sync allows you to (more…)
Enterprise Moves to Macintosh – Ingenious or Exhausting?
As one of Thrive's primary Macintosh resources, I'm beginning to see an increasing trend in companies moving to Mac.  Maybe it's the allure of the "Macintosh Experience", or the life expectancy of the hardware or even – and this is a stretch – that the average utilization time with a Mac running on batteries is close to four hours at full processor potential.
But moving your users to Mac, and maintaining a Windows Server infrastructure, isn't without its caveats.  Let's face it, the two are (and always will be) competitors.  Sure, Microsoft makes software to run on the  (more…)
Can I Use a Mac Computer at Work?
I have a Mac computer at home and love it.
For those of us that have fallen in love with the Apple computers, it seems there has always been a big disconnect between using a Mac computer in the office versus using one at home. (Unless you are graphics designer).
Here is a list of commonly used programs that run just as well on a Mac as they run on a PC in your office: